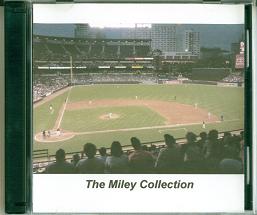 Great Moments in Baseball


Narrated by Ken Coleman


60 minutes - 34 memorable highlights from Owen's passed ball in the 1941 Series to Ken Griffey Sr./Jr. getting consecutive hits for Seattle in 1990. Also includes: 1947 Lavagetto beats Bevans, 1951 Thomson's HR wins pennant, 1954 Mays' Series catch, 1958 Musial's 3000th hit, 1958 Hoyt Wilhelm's no-hitter, 1959 Harvey Haddix almost perfect, 1960 Mazeroski's HR, 1961 Maris hits #61, 1974 Aaron's 715th HR, and perfect games by: Larsen (1956 World Series), Bunning, Koufax, Hunter.